Community Garden Plots
Our garden is located in the heart of Bankview at 23rd Avenue and 16 Street SW, at the top of Buckmaster Park. There are 30 plots available, approximately 3' x 12' in size. Each is leased for $40 for the season between the beginning of May and end of October.
The garden has a waiting list, but spots do open up every year. You must reside within the boundaries of the Bankview community and must have a current Bankview Community Association membership to rent a plot. If there is space after residents of Bankview have been assigned garden plots, associate members who are not residents of Bankview will be able to apply to rent a plot if one is available.
Garden members in good standing (with current BCA membership and a resident of Bankview) have first refusal on their plot every season.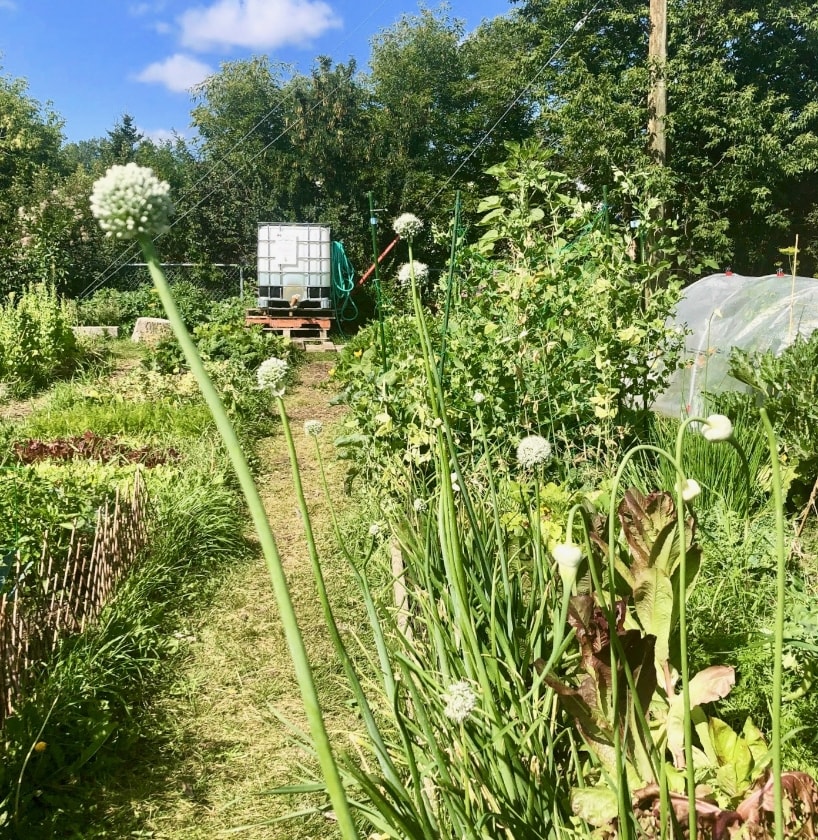 Bankview Community Garden Rules
1. Plots must be planted by June 1st (weather permitting) or the plot and payment will be forfeit. Plots must be tidied and readied for winter by October 31st or they will not be renewed for the following season. Please keep your plot well-maintained throughout the growing season. This includes keeping it weeded. If, as the season progresses, you feel gardening is not for you, please just let the coordinator know and we can take over the plot – it is not permitted to pass the plot to someone else as we have a long waiting list.
2. The shed (combination given with rental) contains a selection of tools and watering cans. Just make sure they're put away when you're done, and the shed is left securely locked. If you want to use it as a greenhouse to get seeds started or grow something that needs more heat, you can. Your plot number is marked on a small spot in there. Please don't spill over into anyone else's spot.
3. Do not plant anything outside of your plot, up against the shed, in communal areas, etc. It may end up being removed or thrown out. Stick to your plot and your spot in the shed.
4. Hoops/Plastic. We have limited sets of hoops and plastic to cover your plot in the spring to help the soil warm up and get your plot started. The plastic needs to be removed by June 30th, although hoops may remain in case you need to cover your plot during a hail storm. The plastic must be removed again after the storm has passed. Hoops and plastic can be signed up for at the event that starts each season.
5. Communication area in the shed – there is a whiteboard on the inner door of the shed for leaving messages.
6. Jobs/Tasks. When you join the garden you'll sign up to help do a specific job. Please do your job! If you see something needs doing, either just take care of it quickly or leave a note about it in the communication area of the shed.
7. Watering when you're away – if you're going to be away on holiday and think your plot will need watering while you're gone, please leave a message about it in the communication area in the shed. For this to work we all need to help – so if someone is away and their plot looks dry, please water it! You'll be glad when they return the favour.
8. Compost – put all your garden cuttings in here. This is just for stuff from the garden- don't bring your compost from home!
9. Weeding – Please keep both your plot and the area surrounding it free of weeds (there are a few quack grass patches we need to stay on top of!)
10. No pesticides/herbicides allowed – organic methods of control are the only ones allowed.
11. Please do not not harvest produce from plots other than their own, unless you've been specifically asked to do so.
12. Smoking is prohibited in the garden. If you bring pets, please make sure their behaviour does not affect any of the plots or communal areas.
Land Acknowledgment
We are located on traditional territories of the Blackfoot and the people of the Treaty 7 region in Southern Alberta, which includes the Siksika, the Piikani, the Kainai, the Tsuut'ina and the Îyârhe Nakoda First Nations, including Chiniki, Bearspaw, and Wesley First Nation as well as the Métis Nation of Alberta, Region III. Respectfully, we acknowledge that we share the land as people of Treaty 7.